Trecastagni Town

The Calvary
No parts of this publication may be reproduced, stored or transmitted in any form both for commercial aims and for personal and private ones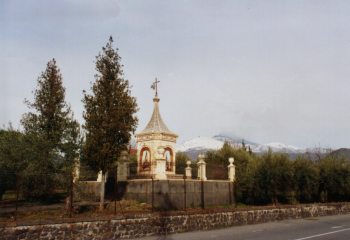 Original Chapel at the back of S. Alfio plain (square) built by the people in ancient period and always object of pious pilgrimages.
In the four icons there are painted scenes of Jesus Christ 's passion.
A perennial lamp is burning as devotion from the devotees.
In 1930 it was rebuilt giving it a new shape and small doors protect the paintings.
An iron fence surrounds it